Why Choose NeuroAid?
Unlock the Power of NeuroAid for Your Recovery Journey
Achieve Independence
Increases the odds of achieving functional independence by 50% at 6 months post-stroke1.
Amplify Rehabilitation
Combine with rehabilitation to double the odds of achieving functional independence compared to rehabilitation alone3.
Enhance Motor Recovery
Our advanced formula is designed to support your body's natural healing processes and enhance movement abilities4.
Prevent Vascular Events
Our solution is proven to prevent early vascular events, providing you with a shield against further complications7.
Optimize Recovery Environment
NeuroAid creates an optimal environment for stable recovery, potentially reducing the burden of stroke and its related costs. Regain your vitality with confidence5,6.
Faster and Fuller Recovery
Experience faster and fuller neurological recovery after stroke with NeuroAid. Embrace a transformative journey toward renewed cognitive strength1,3,4.
Venketasubramanian N, et al. CHInese Medicine NeuroAiD Efficacy on Stroke Recovery – Extension Study (CHIMES-E): A multicenter study of long-term efficacy. Cerebrovascular Diseases 2015; 39:309-318.
Venketasubramanian N, et al. Prognostic Factors and Pattern of Long-term Recovery with MLC601 (NeuroAiD) in the Chinese Medicine NeuroAiD Efficacy on Stroke Recovery – Extension Study. Cerebrovascular Diseases 2017; 43:36–42.
Suwanwela NC, et al. Effect of Combined Treatment with MLC601 (NeuroAiD) and Rehabilitation on Post-Stroke Recovery: The CHIMES and CHIMES-E Studies. Cerebrovasc Dis 2018 doi: 10.1159/000492625.
Harandi AA, et al. Safety and efficacy of MLC601 in Iranian patients after stroke: a double-blind, placebo-controlled clinical trial. Stroke Research and Treatment 2011; doi:10.4061/2011/721613.
Venketasubramanian N et al. Frequency and clinical impact of serious adverse events (SAE) on post-stroke recovery with NeuroAiD (MLC601) vs. placebo: the CHIMES study. Cerebrovasc Dis. 2020;49(2):192-199. doi:10.1159/000506070.
Chen CL, et al. CHIMES Study Investigators. Chinese medicine NeuroAiD efficacy on stroke recovery: a double-blind, placebo-controlled, randomised study. Stroke. 2013; 44:2093–2100.
Chen C et al. Effects of MLC601 on early vascular events in patients after stroke: The CHIMES study. Stroke 2013;44: 3580-3583.
Theadom A, Barker-Collo S, Jones KM et al. MLC901 (NeuroAid IITM) for cognition after traumatic brain injury: A pilot randomised clinical trial. Eur J Neurol 2018; 25(8):1055-e82. doi: 10.1111/ene.13653.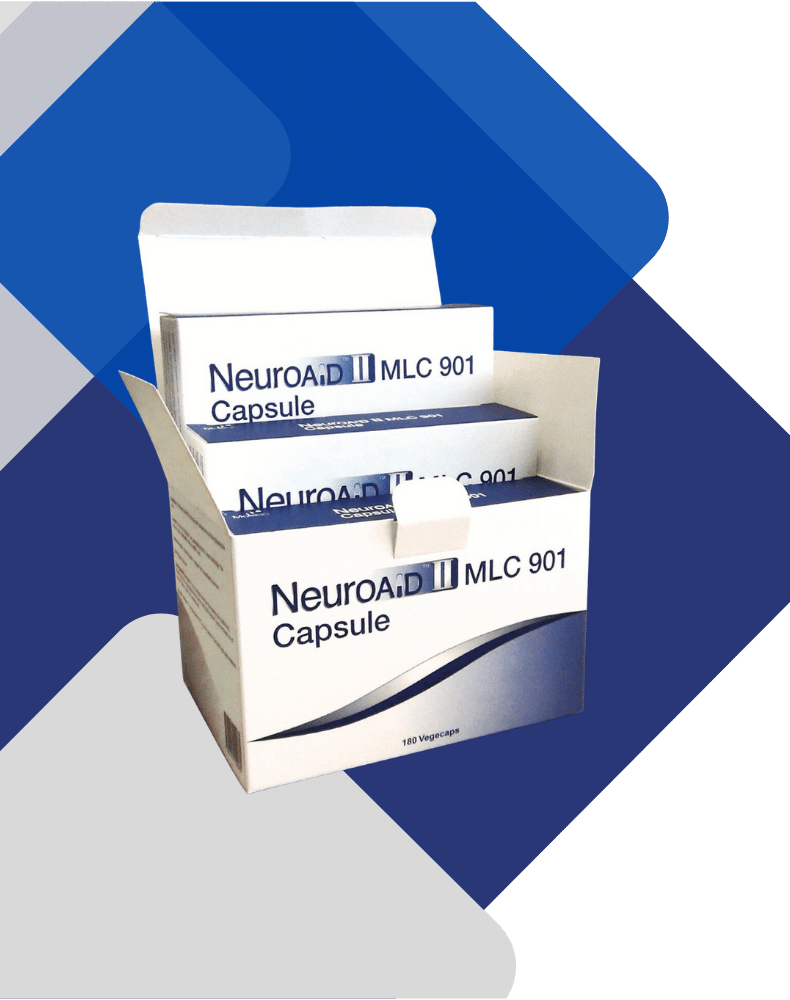 Evidence-based recommendations
NeuroAid II MLC 901
Best used in adult patients suffering from neurological deficits following a stroke or a traumatic brain injury (TBI)
Dosage
2 capsules, 3 times daily
Duration
for after-stroke: 3 months
for Traumatic brain injury (TBI): 6 months
Composition (9 herbal ingredients)
Radix Astragali, Radix Angelicae Sinensis, Radix Salviae Miltiorrhizae, Radix Paeoniae Rubra, Radix Polygalae, Rhizoma Chuanxiong, Rhizoma Acori Tatarinowii, Semen Persicae, Carthami Flos
A better recovery for your brain is possible
Rediscover Life After Stroke
What do people share about NeuroAid

Stroke in 2019, improvements noticed after 4 months
"NeuroAid has been a true game-changer for me. After my stroke, I felt lost and frustrated. But from the moment I started taking NeuroAid, I noticed a remarkable improvement in my cognitive abilities and motor skills. It's like I've been given a second chance at life. I'm now more independent and confident, thanks to NeuroAid".
Stroke in 2020, cognitive improvements within 2 months
"As someone who values mental clarity and sharpness, NeuroAid has been a revelation. It's not just about recovering from a stroke; it's about enhancing your cognitive potential. After incorporating NeuroAid into my routine, my focus has sharpened, and my memory has improved. I'm amazed at how much more I can achieve every day."

Stroke in 2018, renewed vitality and independence after 6 months
"NeuroAid has transformed my life in ways I couldn't have imagined. After my stroke, I was determined to regain my independence. With NeuroAid, I not only regained my cognitive strength but also found a renewed zest for life. I'm back to doing the things I love, and I owe it all to NeuroAid."